On Sale!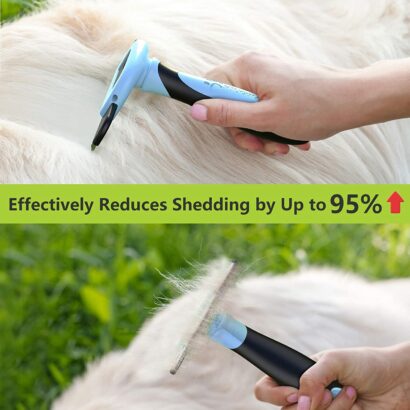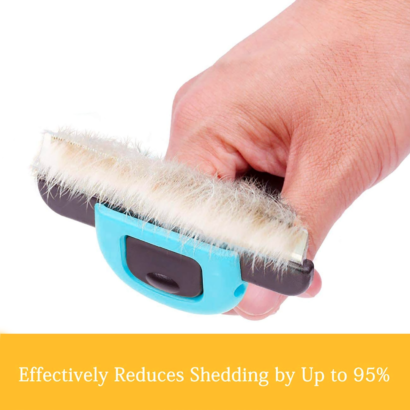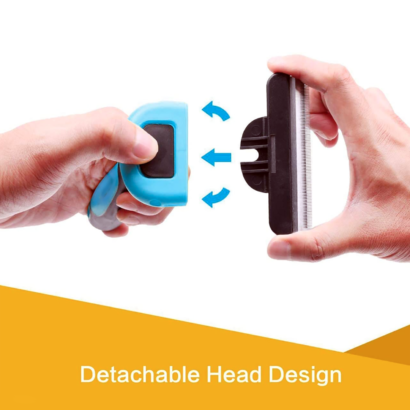 Professional Deshedding Comb Tool for Pet Grooming, suitable for all breeds Small, Medium, and Large with long, medium, and short hair. Skin-friendly and removes up to 95% of loose and dead fur. The rounded teeth are pet safe and go deep to remove the undercoat. Keeps your pet's fur clean. A perfect brush for Deshedding.
Delivery and return
Delivery and return
Next day delivery in store
Buy before 6pm to receive your order next day.
Next day delivery
Orders before 6pm from Monday to Saturday (or before 1pm on Sunday) will be delivered Next working day (except Northern Ireland and Highlands). Orders placed after 6pm (after 1pm on Sunday) or for Northern Ireland and Highlands will be delivered in 2 working days.
Drop Point
In 2-3 working days. Pick up your parcel in one of the many diferent collection points available and during a wide range of hours.
Same day delivery in London:
Place your order before 13:00 to get it today!. If you order later on, you'll receive it the next day and if you order on Sunday, you'll receive it the next working day.
Shipping Information
Shipping Information
SHIPPING
Complimentary ground shipping within 1 to 7 business days In-store collection available within 1 to 7 business days Next-day and Express delivery options also available Purchases are delivered in an orange box tied with a Bolduc ribbon, with the exception of certain items See the delivery FAQs for details on shipping methods, costs and delivery times
Composition and care
Composition and care
Characteristics of wood :
Hard, compact , fiberous and porous
Good wood gives a rich, warm and beautiful surface.
Wood is used for the construction of:
Floor, Furniture, Walls
Incidental furnishing (lampshades, picture frames)
Kitchen & restaurant ware
Description
Stainless steel round teeth make it safer and more comfortable on pet skin. It not only helps remove undercoats and loose hair without pulling or cutting the fur but also cuts through knots and gets the mats out without scratching the pet's skin, making grooming a lot easier.
Effective Deshedding Tool
This Pet Grooming Brush gently removes hair from the undercoat, which helps to remove dander, trapped dirt, and hair. It's the perfect solution for cats and dogs with thick fur or a dense double coat. 
Take out even the finest knots with ease. This Pet Grooming Brush is lightweight and has a non-slip handle that makes it comfortable and stable to use while grooming.
Just like us, our pets also love to be groomed
If a pet is not groomed frequently, he or she might get ticks and lice and the hair knots become bigger and bigger which makes the pet feel awful.
Things you could do to make them feel better:
Brush the fur at least once or twice a day

Trim the fur touching the ground and remove all the deal hair and hard knots

Use a Pet Shampoo Brush while showering

Trim the nails using Pet Nail Cutter or Trimmer and use a file to even the edges of the nails using a filer
To cater to the need of all Pets we have introduced a whole new series of Professional Grooming Products which are Sturdy, Durable, and most importantly made of hight quality Stainless Steel.
Product information
Recommended by Grooming Professionals: Our Deshedding tool brush is designed by pet grooming expert professionals who specialize in pet grooming. Use our Deshedding grooming brush tool daily for 5 to 10 min. to remove tons of unnecessary dead undercoats and dead hair from your pet. The rounded pet safe precision bristle provides a gentle experience and helps you to shed your pets even with sensitive skin.
High-Grade Stainless Steel: The rought edged Stainless Steel bristels are designed to remove the loose fun and dead undercoat and help in better blood circulation also. Our Deshedding brush is made from high-grade stainless steel with precise round edges for pet skin safety. The bristles are positioned at equal widths to give your pet a fast, safe and easy way to break & clear loose hair and undercoat irritation.
Reduced itching and Coat irritation: Our DeShedding comb protects your pet (cats, dogs, and rabbits) from coat itching and irritation. Use the brush as per the vet's prescription or 5 to 10 mins based on the quantity of loose hair and undercoat. Pet grooming does not only mean looking good, it means a regular inspection of your pet's skin and hair health.
Sturdy, Durable, and Ergonomic Design: Wooflix DeShedding tool comb's handle is made up of durable, sturdy, and non-slip grip material, with less strain on your hand you will be able to groom your pet more often. The eyelet at the bottom will help you in storing the dog brush anywhere in your home for your convenience. Soft textured handle strips give a sturdy and comfortable handgrip.
Suitable for all Breeds: Our premium quality De-Shedding Brush tool has been approved and recommended by the best vet professionals for cats, dogs, and rabbits. Our product is suitable for short, medium, and long hair pets of all breeds.
Additional information
| | |
| --- | --- |
| Weight | 320 g |
| Dimensions | 10 × 4 × 18 cm |